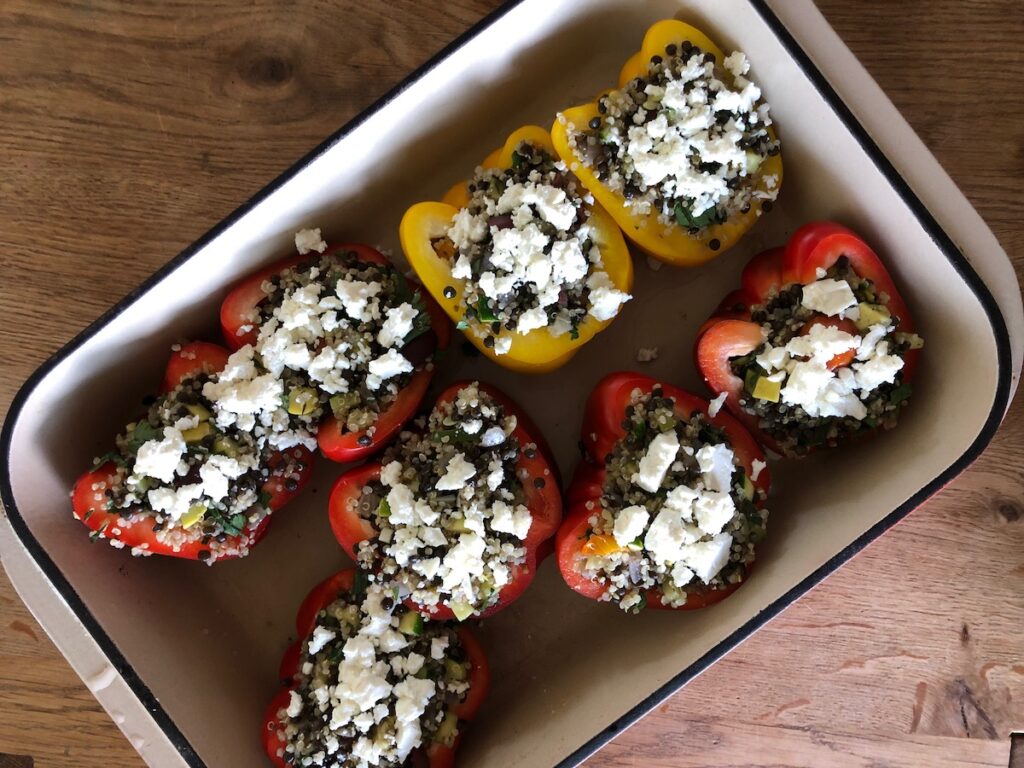 Five Elements Theory is a Chinese philosophy used to describe interactions and relationships between things. The five elements — wood, fire, earth, metal, and water — are believed to be the fundamental elements of everything in the universe between which interactions occur. At Cooper Mountain Vineyards we draw a deep connection between 5 Elements Theory and biodynamic farming, which considers the entire ecosystem.
Our 5 Elements recipe series brings you seasonal preparations to pair alongside our biodynamic wines.
SUMMER: FIRE ELEMENT
The 2021 Cooper Mountain Pinot Noir Rosé brings a fun, fruity fullness to the warmer temps of Summer. The Fire element shines in all directions giving us a more open and adventurous outlook. Paired with Mediterranean Stuffed Peppers, you can give your senses the acknowledgement they desire. Allow the Fire element to warm and expand your heart into the longer days with laughter and joy.
Mediterranean Stuffed Peppers
Serves 4-6
1/2 cup quinoa
1/2 cup lentils
1 tablespoon olive oil
1 small red onion, chopped
3 garlic cloves minced
1 small zucchini, chopped
1 small summer squash, chopped
½ cup cherry tomatoes halved
1 1/2 teaspoon dried oregano
1 teaspoon dried basil
Sea salt and black pepper to taste
1/2 cup freshly chopped parsley and or basil
¼ cup kalamata olives, chopped
4-5 bell peppers
Optional (1/2 cup feta cheese)
In a medium-sized saucepan, combine quinoa with 1 cup of water. Bring to a boil and reduce to a simmer. Cook for ~15-20 minutes or until quinoa is cooked and water is absorbed. Set aside.
In a medium-sized saucepan, combine lentils and 1 cup of water. Bring to a boil and reduce to a simmer. Cook for 25-30 minutes or until lentils are soft, but not mushy.
In a large pan, sauté red onions with a tablespoon of oil or ghee for 2-3 minutes, add garlic and cook for another minute. Add in zucchini, summer squash, tomatoes, dried basil, dried oregano, salt and pepper. Cook for about 10 minutes. Add in cooked quinoa and lentils. Take off of heat and stir in fresh herbs and olives.
Cut peppers in half and take out seeds. Stuff each pepper with filling and top with cheese if you are using.
Place in a baking pan, add a few tablespoons of water to the bottom. Bake for about 30-35 minutes at 375 degrees, until peppers are tender.