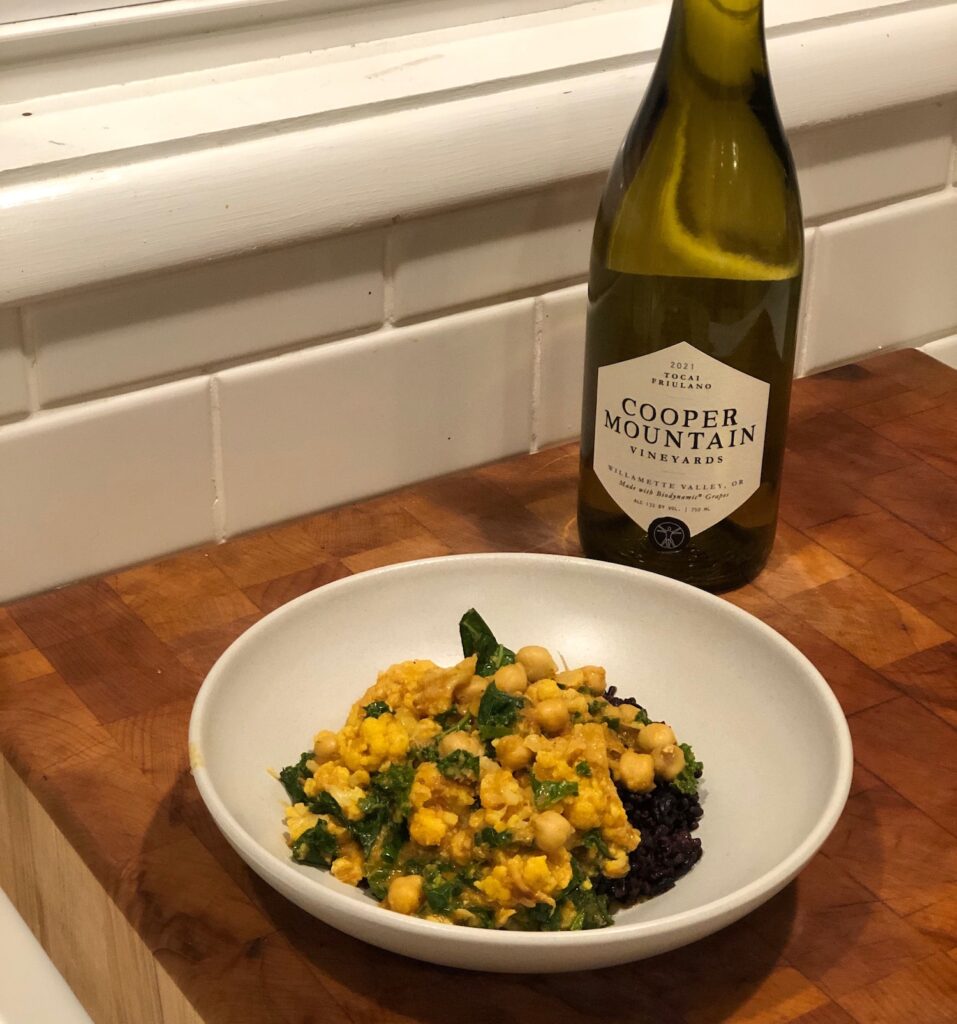 Five Elements Theory is a Chinese philosophy used to describe interactions and relationships between things. The five elements — wood, fire, earth, metal, and water — are believed to be the fundamental elements of everything in the universe between which interactions occur. At Cooper Mountain Vineyards we draw a deep connection between 5 Elements Theory and biodynamic farming, which considers the entire ecosystem.
Our 5 Elements recipe series brings you seasonal preparations to pair alongside our biodynamic wines.
LATE SUMMER: EARTH ELEMENT
The fruit is ripe on the vine and the air is humid and full. Late Summer – the Earth element – is reminiscent of juicy melons, stone fruit and fragrant honeysuckle.  This season asks us to sit a spell, reflect on our summertime adventures and catch one last lazy late afternoon in the park.  The 2021 Cooper Mountain Tocai Friulano meets us here. Pair it with a Cauliflower and Kale Curry Over Forbidden Rice, and this will be a season to remember.
Cauliflower and Kale Curry Over Forbidden Rice
Serves 3-4
1 cup forbidden rice

2 Tbsp coconut oil
1 small red onion, chopped
5 garlic cloves, chopped
1-inch ginger root, grated
2 tablespoons curry powder

½ teaspoon cumin

½ teaspoon coriander

1 teaspoon garam masala

½ teaspoon turmeric

1 14 ounce can of diced tomatoes

1 can full-fat coconut milk


½ cup water

1 cauliflower, de-stemmed and cut the florets into bite-sized

pieces

2 cups cooked garbanzo beans

3 cups kale, chopped

salt
In a medium saucepan, bring rice and 3 cups of water to a boil, lower heat to a simmer, and cover. Cook for about 35 minutes or until rice is cooked. Forbidden rice has a chewy texture similar to wild rice. 
In a soup pot, heat coconut oil over medium heat. Add onion and cook for a few minutes. Then add in garlic and ginger. Cook for 1-2 minutes, stirring often. Add in all of the spices and a generous pinch of salt, cook for 30 seconds or until fragrant. Add in tomatoes. Empty ingredients into a blender and process until smooth. Add back into the pot. 
Add in the coconut milk, ½ cup water and cauliflower. Let it simmer for 25 minutes or until the cauliflower is soft. Then add in chickpeas and kale and cook for about 4-5 minutes. Season with salt to taste.
Serve the coconut – cauliflower mixture over the forbidden rice. Enjoy!