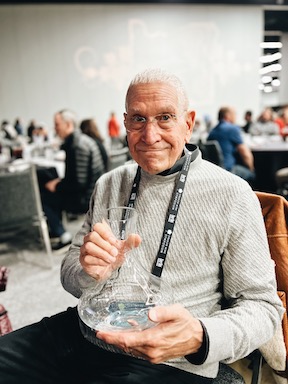 DR. ROBERT GROSS OF COOPER MOUNTAIN VINEYARDS
HONORED WITH FOUNDERS AWARD AT THE OREGON WINE SYMPOSIUM
The annual awards ceremony presented by the Oregon Wine Board recognizes leaders in the industry, including this pioneering biodynamic winemaker
Beaverton, Oregon (February 14, 2023) — Today at the annual Oregon Wine Symposium, Dr. Robert Gross of Cooper Mountain Vineyards was honored with the Oregon Wine Board's Founders Award for his contribution to advancing biodynamic and organic winemaking in the region. Cooper Mountain Vineyards, then just 60 acres, was the first to receive Demeter Biodynamic Certification in the Pacific Northwest (1999). Today Cooper Mountain biodynamically farms 325 acres (200 acres of vines) across seven vineyards in the Willamette Valley's Chehalem Mountain AVA.
A psychiatrist by profession with an undergraduate degree in bioengineering, Dr. Gross began making wine in the early 70s as a hobby with a group of faculty colleagues at The University of Washington. During that time he had the opportunity to taste an early bottling of David Lett's Oregon Pinot Noir, and it changed his life forever. In 1978 he and his wife Corrine moved their family to Oregon to plant a vineyard on the Southwest-facing slope of a farm in Beaverton where she grew up riding horses, after consulting Dick Erath who affirmed that it would be a promising site.
Dr. Gross' journey to biodynamics began when he studied acupuncture and homeopathy as a way to treat pain in his patients. His family began to prioritize holistic wellness, and decided that they'd commit to organic farming with the goal of ultimately going biodynamic. He appreciated the similarities in this approach through farming and medicine: strengthening the organism (a person; a vine) allows it to naturally resist disease and thrive with optimal health and longevity.
In the early 2000s, groundbreaking French biodynamic winemaker Nicolas Joly planned to visit Cooper Mountain and talk with a fledgling group of farmers growing grapes organically at the time. It would turn out to be a seminal moment in Oregon wine history.
"We decided to put the word out to invite a few others to hear the lecture," says Dr. Gross. "More than 100 people in the wine industry came. That got biodynamics going in Oregon." The facts were clear: some of the best French houses were biodynamic, and soon the movement took root in Oregon, too.
Cooper Mountain Vineyards grew steadily, expanding their commitment to sustainability through every aspect of the business. In 1995 Cooper Mountain was Certified Organic by Oregon Tilth, and in 1999 became the first winery in the Pacific Northwest to earn Demeter's Biodynamic Certification. In 2002, Cooper Mountain became the first winery in the U.S. to gain label approval for a no-sulfite-added wine, and achieved carbon neutrality in 2010. In 2021 Cooper Mountain Vineyards acquired Chehalem Mountain Vineyard (planted by Dick Erath in 1969), and Arborbrook tasting room and vineyard.
Dr. Gross' vision of creating organic and biodynamically farmed wines that can be enjoyed by people across the country at a variety of price points has come to fruition, and he feels both proud and excited about the future of Cooper Mountain Vineyards. The family business is now run in partnership with his daughter, Barbara Gross. "I feel fortunate to have someone in the next generation continue what we started," says Dr. Gross, "to grow and evolve it into something even better."
About Cooper Mountain Vineyards
In 1978 Dr. Robert Gross and his wife, Corrine Gross, planted Pinot Noir and Chardonnay on the slopes of Cooper Mountain, ten miles west of Portland, Oregon. Dr. Gross developed an early interest in biodynamic agriculture as an extension of his work as a homeopathic doctor. In 1995 Cooper Mountain was Certified Organic by Oregon Tilth, and in 1999 became the first winery in the Pacific Northwest to earn Demeter's Biodynamic Certification. Cooper Mountain Vineyards has grown from ten acres to 325 acres (200 of vines), and expanded its plantings to include Pinot Gris, Pinot Blanc, Tocai Friulano, Gewürztraminer, and Gamay Noir. In 2002, Cooper Mountain became the first winery in the U.S. to gain label approval for a no-sulfite-added wine, and achieved carbon neutrality in 2010. The quality of the grapes grown by careful sustainable farming practices and crafted by the skill of winemaker Gilles de Domingo has been recognized with accolades and high ratings from Bon Appétit, The New York Times, Wine Spectator, Wine Enthusiast, The Wall Street Journal, and more. coopermountainwine.com