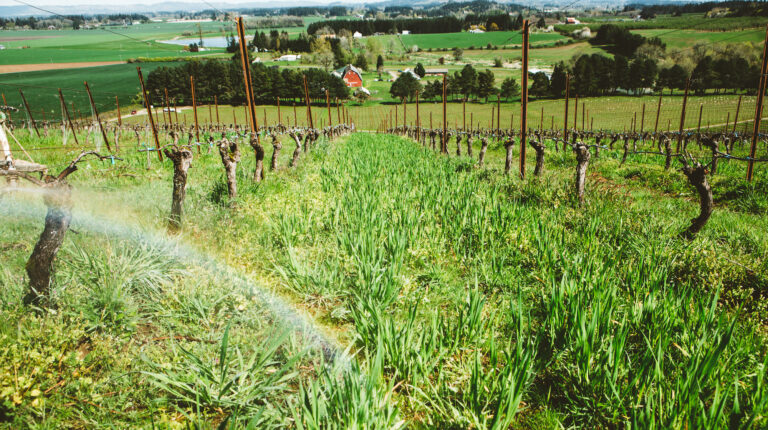 Every day is Earth Day at Cooper Mountain Vineyards: our decades-long commitment to organics, biodynamics and sustainable wine growing is rooted in being good stewards of the land and preserving it for generations to come. Our land is our legacy.
Cooper Mountain Vineyards was an early adopter of organic and biodynamic agriculture, becoming certified Organic by Oregon Tilth in 1995 and certified Biodynamic by Demeter in 1999.
Cooper Mountain Vineyards was recently recognized for our philosophy and sustainable practices in two articles, just in time for Earth Day!
The Oregon Wine Press highlights winegrowers' commitment to sustainable agricultural practices in  "Mother Earth Needs Ewe" [April 11, 2023]: read the full article here.
Cooper Mountain Vineyards, located in the Northern Willamette Valley, earned organic certification as a mandatory stepping stone for biodynamic certification. "We started this adventure on our 60-acre estate over 30 years ago," says operations director and co-owner Barbara Gross. She observes how a single winery can reflect a range of motivations for achieving sustainable certification. "My father is motivated by health: the health of his employees and the health of consumers." As a physician, Bob Gross was keenly aware of the explosion of antibiotic-resistant organisms, in medicine and agriculture, and the resulting acceleration of both pesticide and antibiotic use. "I'm motivated by the environmental ramifications associated with conventional farming," says Barbara Gross, "and then Gilles (de Domingo, winemaker), of course, is motivated, as all winemakers are, by quality, quality, quality."
The Daily Meal also spoke with Barbara for this article, which breaks down the difference between Organic and Biodynamic wine. We know that certifications and marketing buzz words can be confusing, and this article [April 9, 2023] is researched and comprehensive. 
Biodynamic wine mainly differs from organic in that the practice takes nature into account. According to Barbara Gross, co-owner of Cooper Mountain Vineyards, the first certified biodynamic vineyard in the Pacific Northwest and one of the first top-10-certified vineyards internationally, biodynamic farming is organic and then some. Gross explains, "Organic and biodynamic farming are both approaches to agriculture that prioritize soil health and biodiversity. While both organic and biodynamic farming focus on eliminating synthetic chemicals, biodynamic farming goes one step further and incorporates practices to create a self-sustaining ecosystem on the farm."
Barbara goes on to explain how biodynamic spray preparations that are made with natural substances including herbs, minerals and manure to proactively enhance the health of the vines and the surrounding ecosystem. 
Cheers to Earth Day and our continued adventure of growing wine and prioritizing the health and legacy of our planet Earth.